Project ORKA, 2001 Ford KA 1.3 Endura

Ok for those who know me I appologise, For those who dont I will explain.

For the Haters, Grow up and find a real issue to bitch about cause I dont care what you think.

Project ORKA started as a bet between me and my ,Then, Girlfriend "The Original EMC". Whilst at Donny 2008 she challenged me to fully customise her 2001 Ford Ka. The challenge was, we had no Budget at all and it had to be Finished and on the Superiour Rides show Stand at Modified Nationals 2008
(7 WEEKS!).
As I had a full time job, all I could use were evening and weekends to do the work.

In the End we just made it. I mean JUST. The total cost of the build was around £600-00. If I can remember the prices I will list them in this diary. Obviously the most money was saved by EMC and I doing all of the work ourselves. As I have loads of pics from this project, I will endevour to do a few "HOW 2's" on some of the jobs completed.

This is definately a MARMITE car and has caused an argument or two. The Fact is, the car was never meant to last as long as it has, there are plans in place to rebuild her again, for all of those people who made comments 5 yrs ago when we first did her, Think before you speak. This was never going to be a £100,000 show car that would make top 25 at Mod Nats. It was a bit of fun between me and a few friends. It was fun to do and we had a laugh, so if you do want to comment think before you speak.

Rant over, I hope you enjoy this diary of a quite well known car, now (thanks internet), I hope it gives you some ideas for your projects, as well as THE ORIGINAL PURPOSE OF THE BUILD, proves that you dont have to spend a small fortune to customise a car and make it unique.

Thanks for Reading

Happy Modding

The Bishop
Project ORKA Part 1. April 7th 2008 - The Beggining:
The original car was a 2001 Y Reg Ford Ka 1.3 Endura. I bought the Car for EMC for passing her Driving Test, Sticker price in September 2005 was £3200-00 (It has cost me a whole lot more since). This first section will show you the car as it was at Donny 2008, this was the starting point for the project. As you will she, it wasn't a bad car at all, just very run of the mill and boring.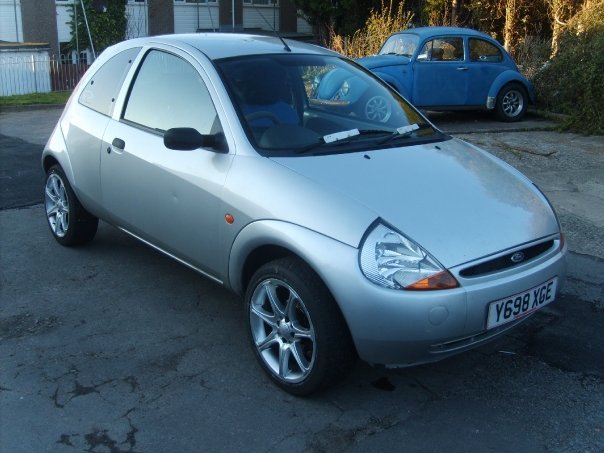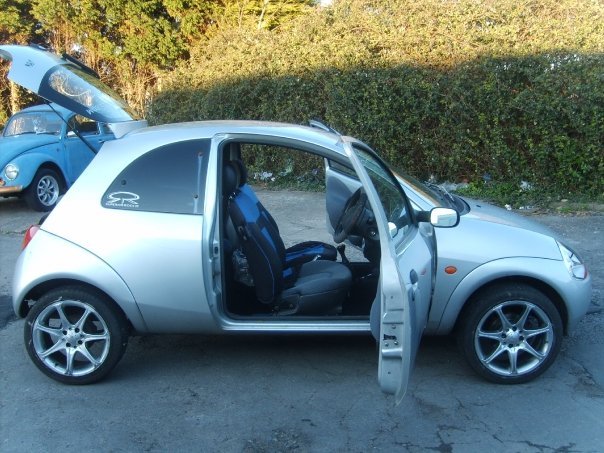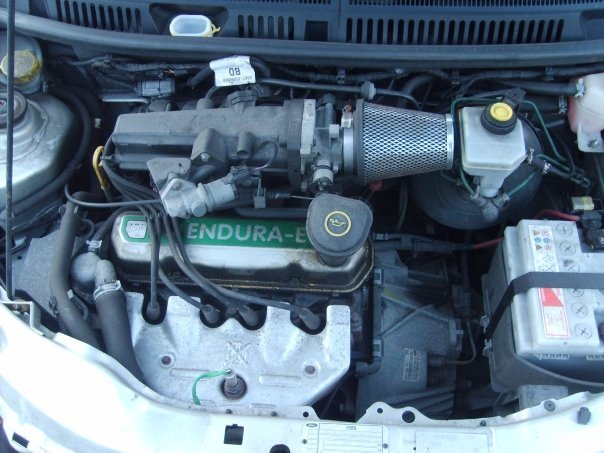 As ORKA Stood, she was basicly a Standard 2001 Ka. Apart from some minor modifications as follows.
Body:
Only thing done Was the Rear side windows are tinted Limo Black.
Interior
The Interior has Aftermarket shop bought seat covers.
A JVC face off Cd headunit.
Engine
Standard 1.3 Endura 8v with a Max Power Induction Cone.
Chassis
16" Second hand BK 6 spoke alloys.
So as you can see, the car is pretty much standard to start. This was how the project began.
7 Weeks to go.
Thanks for reading
The Bishop
_________________
Project ORKA Part 2. April 7th - 13th 2008 - Week 1: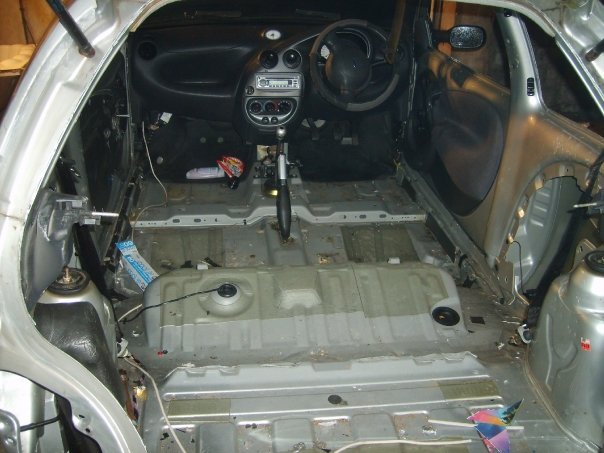 First job was to strip the car down. Full Interior removal, body kit ect.
then we bagan to rub down all of the paint to get throught the laquer ready to start the body work.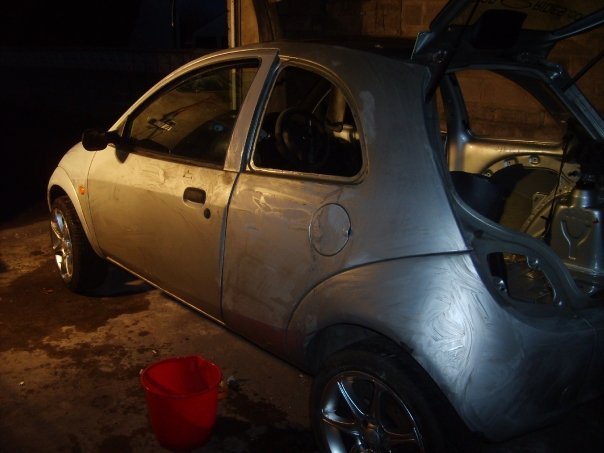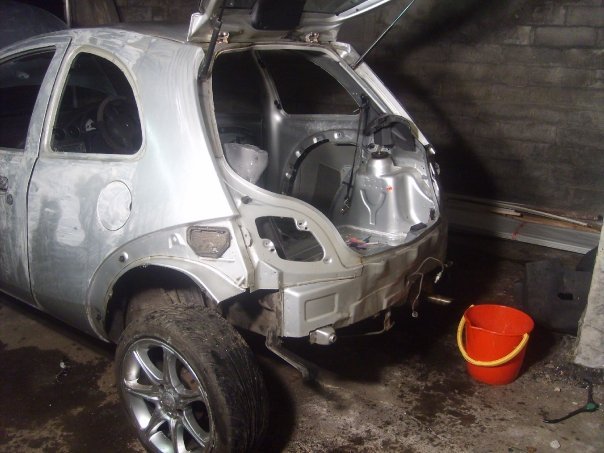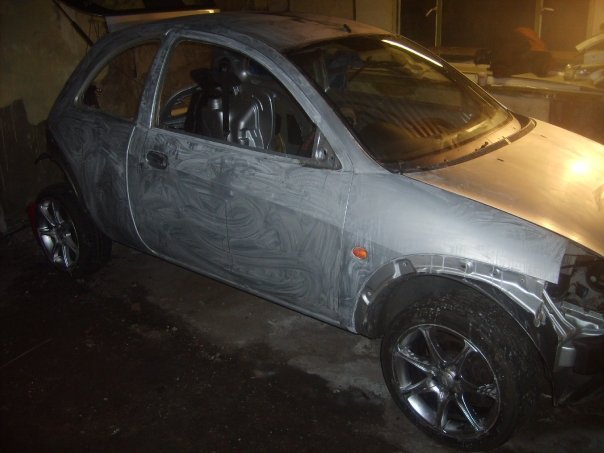 When I say we stripped it I mean it. Interior, Carpet, Panels, Windows. everything came out except the engine, windshield and dash.
We even took the Doors and Tailgate off.
Once stripped we moved onto the rub down. Using sanding blocks and Wet & Dry paper we rubbed down all of the paint work. This was to get through the laquer to the paint, so that the the bondo and primer would have a good key when we started the paint work.
This took up most of the first week of the project. This is one of those insperational moments in a project.
"If you build it they will come"
Field of Dreams.
"If you book them they will come"
Waynes World 2.
"If you lick it you will stick"
Dumb & Dumber
Ok here I go
"Good prep gives Good Paint Finish".
It is not a lie or a simple saying, it is true. We spent a week rubbing down and starting the bondo work. Its boring but worth it.
_________________
Project ORKA Part 3. April 14th - 20th 2008 - Week 2:
BODY WORK: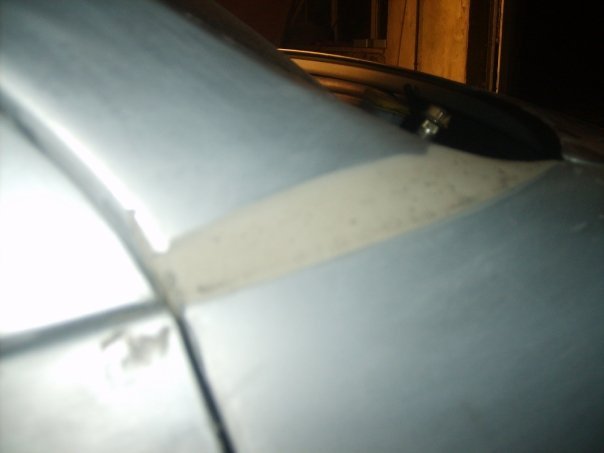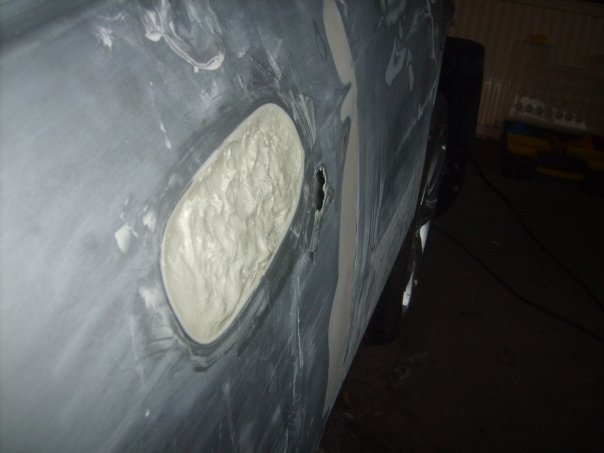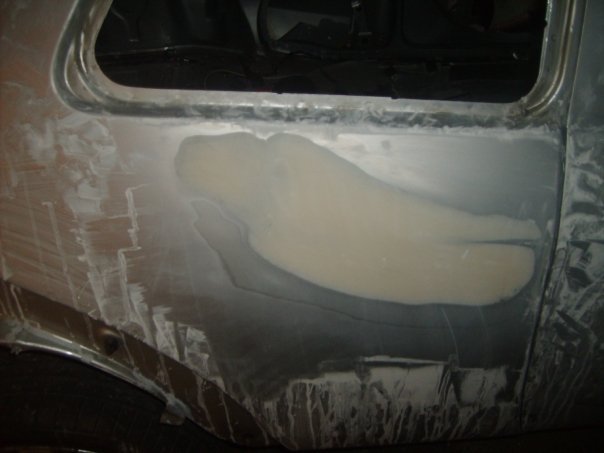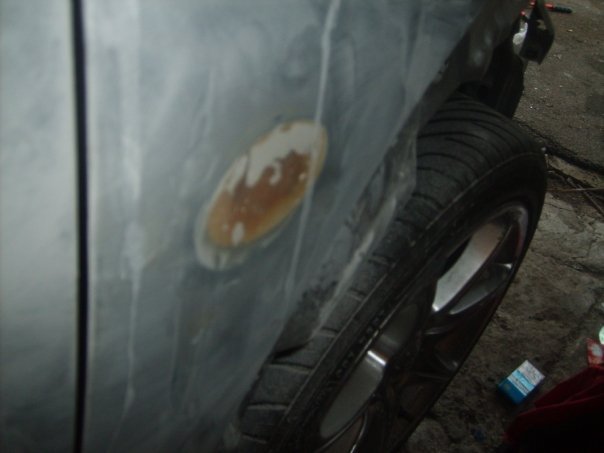 There were several parts of the bodywork that needed to be filled and fixed, as there were dents and dings. The Near side door (passenger) had been opened onto a wall and bent the edge, so this had to be fixed. On the Off side Rear qtr panel there was a dent where someone had pushed the panel in. We also Flushed the N/s door handle, Lock as well as the Tailgate handle and wiper arm hole. The last bit of work was to flush the join of the front wing and A pillars. This would give us a cleaner line on the finished car and look neater.
Because we were going to fit mirrors with built in repeater, we wanted to flush out the side repeaters on the wings. I will cover this in a "How 2" guide when I can. It is pretty easy but there are a couple of ways of doing it.
With all of the body work underway it was a case of fill and rub down, fill and rub down until the desired finish had been achieved.
Wet & Dry
Sanding Blocks
P40 easy sand or Bondo or body filler
P45 easy glass or Fiber glass filler
Lots of clean water.
Thanks for Reading
The Bishop
_________________
Project ORKA Part 4. April 21st - 27th 2008 - Week 3:
More Bodywork: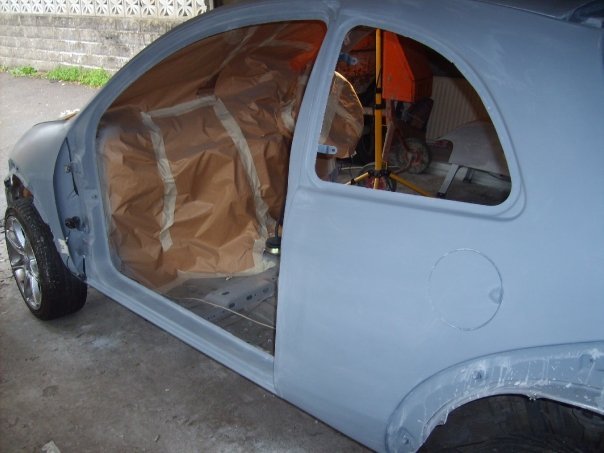 You will need:
Tools:
Compressor (minimum 2hp 24L)
Spray Gun (I had 2 a 500ml stainless steel gun for primer and 500ml Gravity feed gun for paint)
Primer (High Build Grey 1L)
Tack rags (sticky cloths)
Panel wipe (5L or you can use Brake & Cluthch Cleaner its the same)
Face Masks
Gloves.
Mixing Cups.
Thinners
Masking Paper
Maskig tape.
All of the tools are easily available, my compressor was bought from screw fix for £90 with a starter kit that included the Primer gun.
The Primer was bought from a specialist Auto Paint supplier along with everything else.
Most Motor Factors will supply Thinners and Panel wipe.
Once all of the body work had been completed, we began to spray. We used a High build grey primer to start.
Mix up enough for the job (dont try to do to much at once, do a side, then a side, then roof, bonnet, boot etc).
Once the primer had dried (over night as we had no oven) it will need to be rubbed down using various grades of wet & dry. Start with a 600 grit and work your way up. With primer we went up to 1200 grit to get a smoth finish then scuffed up using a scotch pad (green bit on a sponge) lightly to re key ready for paint. This took us most of week 3 and week 4.
In the End ORKA had 3 full coats of Primer.
Next up was the paint. We were doing an old skool two tone scheme.
Roll on week 4
Thanks for Reading
The Bishop
_________________
Project ORKA Part 5. April 28th - 4th May 2008 - Week 4:
Guess What! More Bodywork: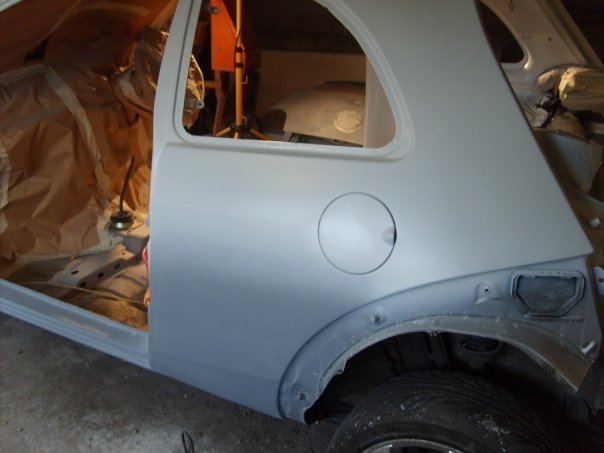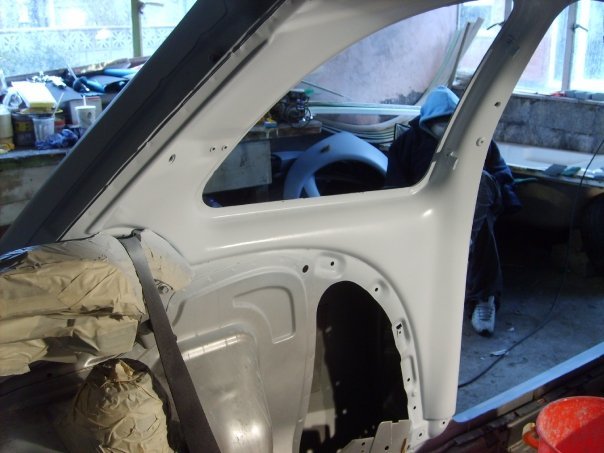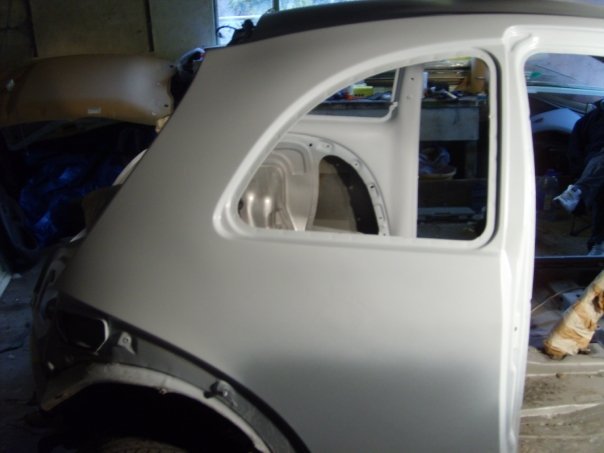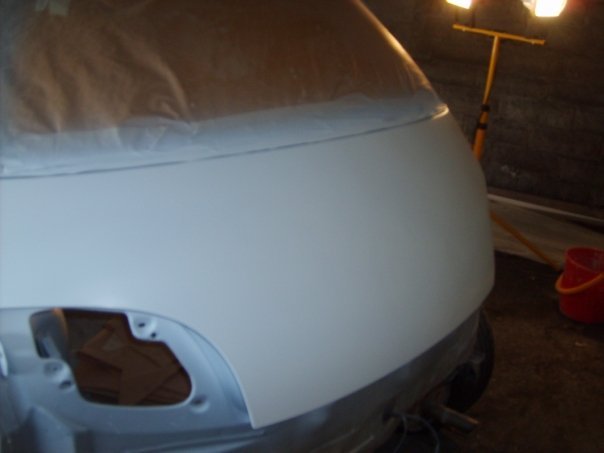 With the Pirmer done, we started on the Colour, I used my Gravity feed gun for this one, We sprayed the top half of the car in Ford Frozen White. We bought 1L from an Auto Paint Specialist. Mix it up with a little thinners in it so it will spray smoother. Again as with the primer it is all about even coats that have a wet flat in between. The White had 4 or 5 coats of paint in total along with the inside of the car as well.
We were going to have a Pinstripe on the Swage line so no need to mask the car for this as we would simply overlay the next colour.
Before the White was started I had an aerosol of Ford Polaris Grey (gunmetal). We sprayed about a 2 inch band around the swage line and then put a 3mm masking tape over it. Once all the colour was complete, we would remove the tape and the pinstripe would be seen between the two tone colours.
Thanks for Reading
The Bishop
_________________
Project ORKA Part 6. May 5th - 11th May 2008 - Week 5:
Yeah Woo Hoo More Body Work:
Over the Weekend we had found someone local who had a body kit for sale for a ka. Thanks to Gus I bought it, It was a Krisis kit, a bity over the top but thats what we wanted, a total change. In the kit was Jap Style Wide Mouth front Bumper, Rear Bumper, Side Skirts and wheels arch extensions, there was also a Fiat Punto Style Roof spoiler. All of this for £50-00. Bargain.
We also began the last stage of paint this week, the bottom half of the car and body kit plus fitting. busy week.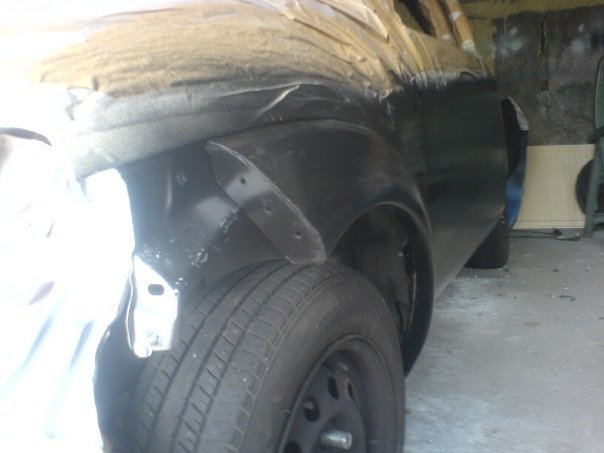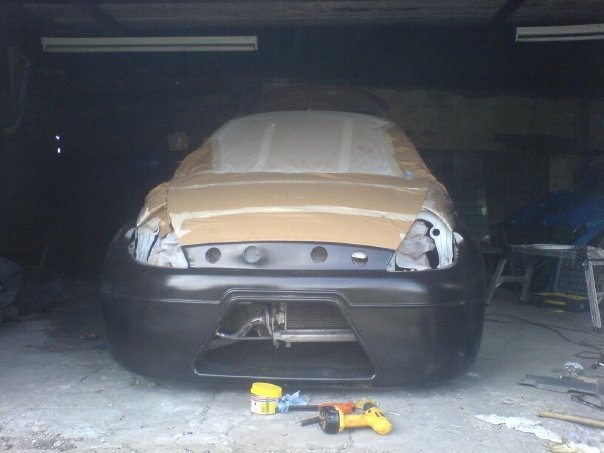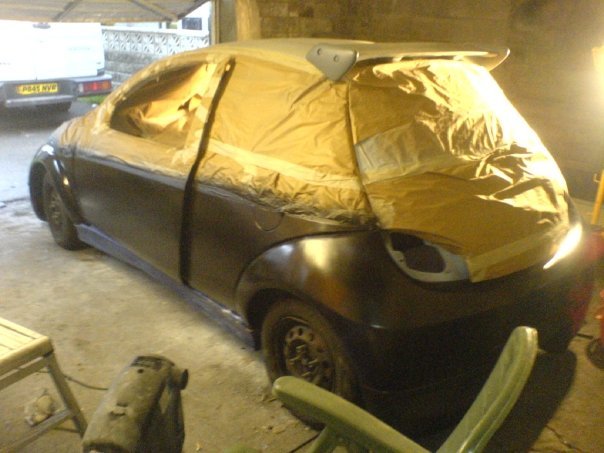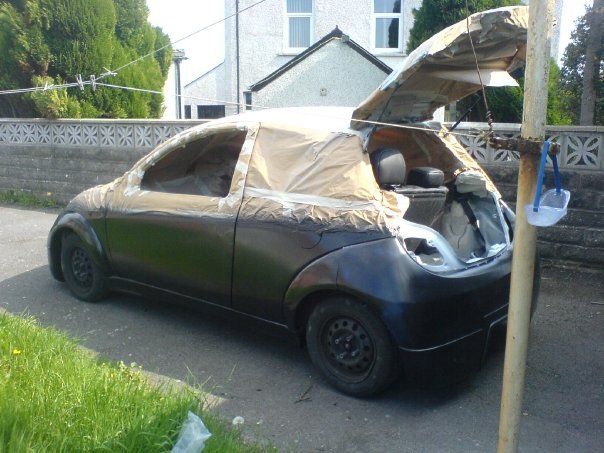 So paint was finished and Bodykit was fitted. Next up came the rebuild. First the paint reveal.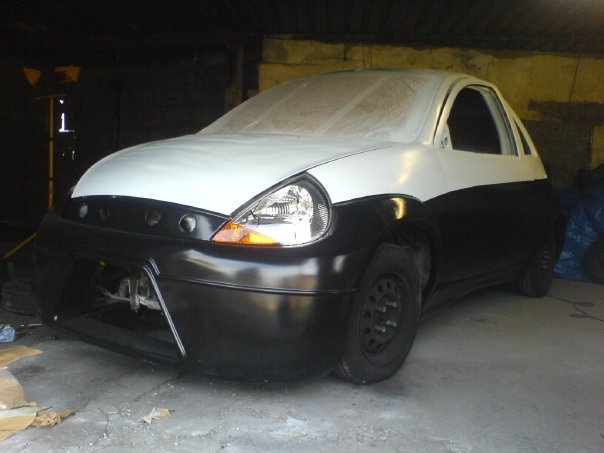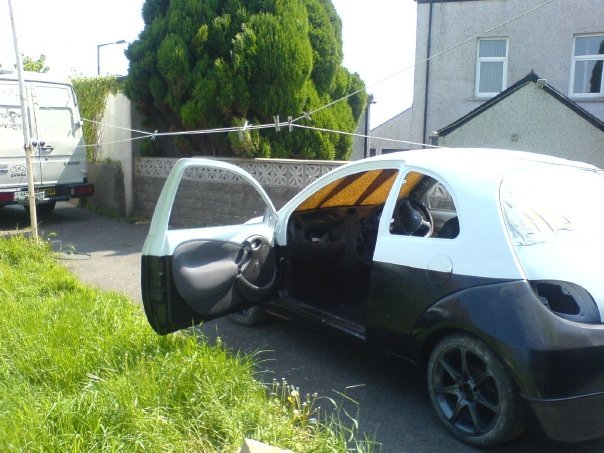 We still had Loads to do. We had to fit the Refurbished Wheels, New Interior (that was fun), Lowering Springs, Ice install, replace all the windows, door cards, interior panels, lights, mirrors and new exhaust.
It was getting to be like this project was never ending and we only had 10 days left to finish, Mot and Tax the car before Mod Nats.
_________________
Project ORKA Part 7. May 12th - 18th May 2008 - Week 6: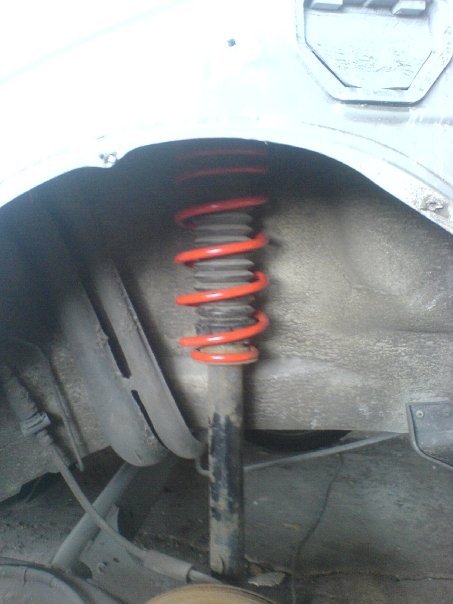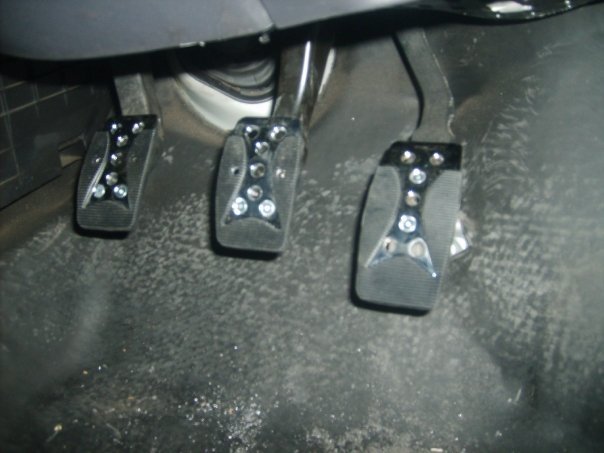 The Final Full Week was spent fitting lowered suspension springs, a full ST170 half leather interior, new Stereo and Sub/Amp kit. plus all of the other snaggs that needed to be finished.
I wont go into them indepth here, as I plan to do "How 2" guides on these jobs, so you can read about them there.
Thanks for Reading
5 DAYS TO GO!!!!!!!!!
The Bishop
_________________
Project ORKA Part 8. May 19th - 23rd May 2008 - Week 7:
Finally Week Seven. Nearly Done. We had to get an Mot, no problem.
And Road Tax, BIG PROBLEM.
we couldnt find the log book any where and the reminder letter had run out. So on the friday of the show we had to spend the first 2 hours of the day at the VRO in Llanishen Cardiff getting a tax disc and new Log Book.
Not fun. But we finished. Made it to the show and had a good weekend.
I hope this has been informative and shown that you can do some projects with out having to spend a fortune.
It is easy, you just need to plan your time & not go over the top, the most expensive part of the project was buying all of the paints and stuff need to paint. Everything else was second hand and some of it was free.
Thanks for Reading and I will try to get a price list up soon.
Check the "How 2" section for how we did some of the jobs on ORKA.
The Bishop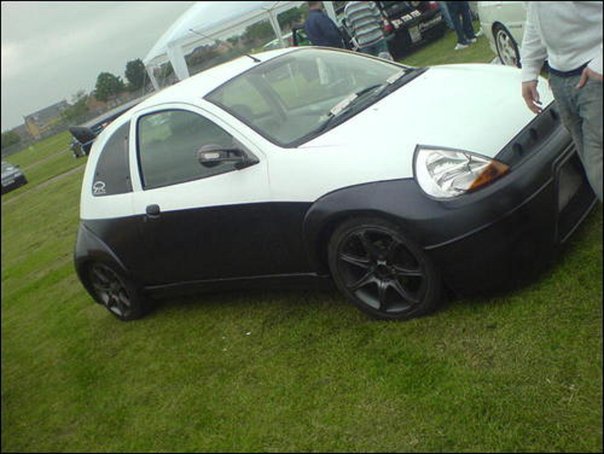 At Mod Nats May 2008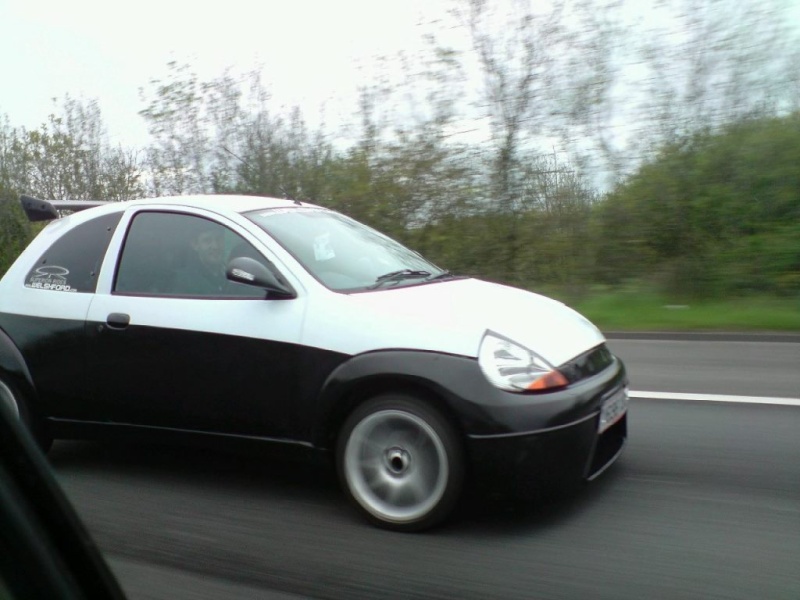 On the way to FORD FAIR Aug 2008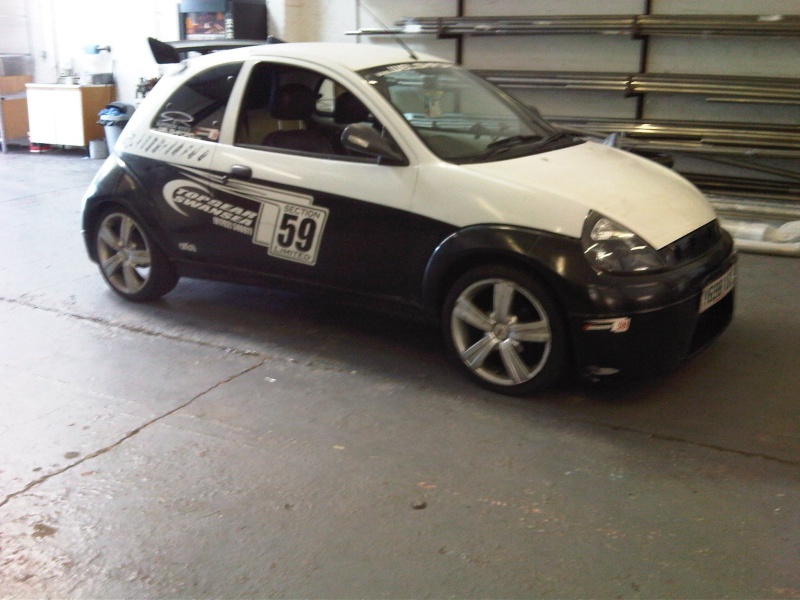 When I had my Shop in Swansea 2009 Rolling on 17" TSW Reflex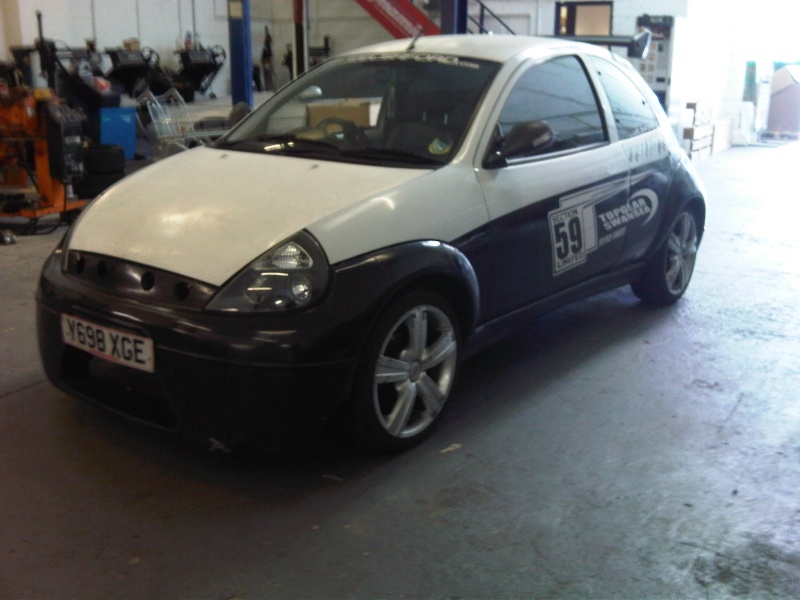 _________________
I would still drive this now

you know how I feel about it

loved the paint job as well. looked so good
_________________
Admin




Posts

: 31


Join date

: 2012-01-24


Age

: 31


Location

: Barry





Similar topics
---
Permissions in this forum:
You
cannot
reply to topics in this forum